Raktaj Tablets / Syrup - for Skin Disorders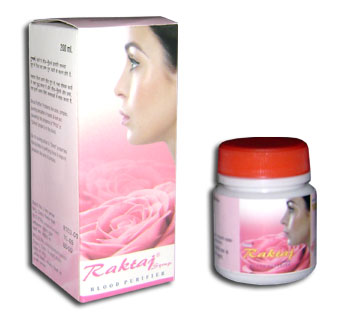 Raktaz is a combination of Manjishta Ghana & Kutki churna with Neem pan juice. It is effective for skin disorders like acne, pimples, itching, blisters etc. Due to increased ushma dharma in blood. Raktaz purifies the blood & helps in bringing it to normal healthy state by reducing the Ushna guna from the blood, thus helps in removing the ill effects of impure blood in different skin infection.

Raktaz is indicated in as blood purifier in various skin infections like acne, pimples, itching, burning sensation & tenderness of skin.

Dose
2 Tablets twice a day for 4 to 6 weeks
Packing
30 Tablets
Neem Oil

Indication : Cleaning of scalp condition including dandruff and removes lice in the hair, improves dry psoriasis, fungal skin infection, mild antiseptic, promotes healing of wounds.

For external use only

Neempan Tablets



| | |
| --- | --- |
| Contents | Neem pan tablet |
| Indication | Skin disorders, Blood purifier, Make skin healthy |
| Dose | One to two tablet twice a day with water. |

Azadirachta indica is a large, evergreen tree. Its principle constituents are nimbin, nimbinin and nimbidin. All parts of the plant yield b-sitosterol.

It is used for external applications in skin diseases. Neem extracts possess antidiabetic, antibacterial and antiviral properties. The tree stem, root and bark possess astringent, tonic and antiperiodic properties. The bark is beneficial in fever and useful in cutaneous diseases.

All the parts of the plant and active principles and extracts possess a lot of significant pharmacological properties. It is bitter and alterative. It is used as a poultice in boils, is antiseptic, demulcent, a tonic in catarrhal affections, stomachic, stimulant. It is useful in snake bite, scorpion sting, hypoglycemic, in Joint Pains, as an analgesic, antipyretic, sedative, antibacterial, antiprotozoal, antiviral, anthelmintic and in skin diseases.

Action: The antibacterial, antifungal and blood purifying properties of Nimba are useful in skin disorders and keeps the skin healthy.