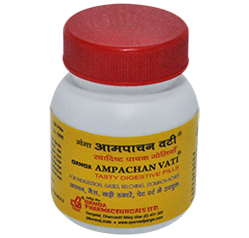 AMPACHAN VATI (300 mg.) (Proprietory) – Tasty Digestive Pills
ContentsChitraka Chal, Pipalimula, Ajvian, Shudh Javakhar, Sunth, Chavya, Sajikhar, Shudh Nosager, Kalimirch, Pipali, Samudra Namak, Hing, Saindhav Namak, Kala Namak, Beed Namak. Bhavana: Nimbu Swaras.
Indication Indigestion, Gases, Flatulence, and Belching
Dose 1 to 2 tabs to be chewed twice a day or as and when required.
Packing 60 pills / 120 pills
MRP ₨ Rs 45 /- / Rs 80 /-