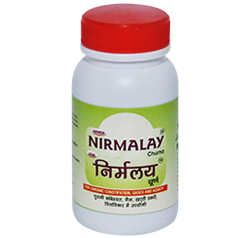 NIRMALAYA (Proprietory) – Relieves Constipation
ContentsSonamukhi, Kalimiri, Variali, Harada, Sonageru, Saindhav, Namak, Khaneka Soda, Kala namak.
ActionMild Laxative action.
Indication Useful in Chronic, Constipation, Gases and Chronic acidity cases, helps in effectively removing the undigested food material from G.I. tract.
Dose 1 or 2 teaspoonful with warm water at bedtime.
Packing 50 Gms. / 100 Gms.
MRP ₨ Rs 60 /- / Rs 95 /-