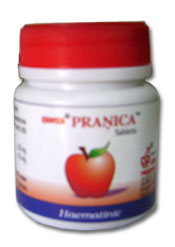 PRANICA PLUS Tablets (375 mg) – Gentle Ayurvedic Haematinic
ContentsTriphala Churna-250 mg & Mandoor Bhasma-125 mg Mandoor Bhasma is a choice of iron supplements from different Bhasmas described in ayurved because of its better tolerance and lack of side effects like gastric irritation or loose motions. Pranica tabs are indicated in pregnancy, lactation during convalescence after major surgery in tuberculosis and bleeding piles.
Dose Initially 2 caps twice a day after meals for one week followed by 1 Capsule twice a day for 3 to 4 weeks.
Packing 60 Tablets
MRP ₨ Rs 95 /-