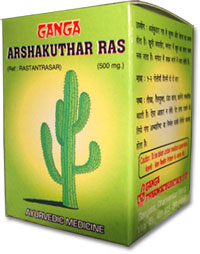 ARSHKUTHAR RAS TABLETS – For Piles and Hemorrhoids
ContentsShudh Parad, Shudh Gandhak, Loha bhasma, Abhrak bhasma, Bael giri, Chitraka mool, Kalahari, Sunth, Kalimirch, Pipal, Pitta Papada, Danti mool, Shudh Tankan, javakhar, Saindhav namak.
Indication For Bleeding piles, Fissures & Fistula.
Dose 1 to 2 tablets twice a day with water.
Packing 50 tablets
MRP ₨ rs 110 /-